If you are like many HR leaders, you probably couldn't immediately tell someone "how many BIPOC employees are in the engineering department, by the level, at the Austin office" or "what the regrettable attrition rate for women in leadership has been over the last two years." If you're one of the lucky ones you have a system admin or even FTE people analyst you can submit the request to. From there the manual effort of discovery begins. Later that week or month you'll get your report – but even then the DEI data can remain in question. People analytics tools should be instant, easy, and DEI enriched. With the right people analytics platform, you can automatically access meaningful insights, locate & close your equity gaps. Automation and DEI enrichment unlocks your speed to deliver a competitive, inclusive candidate and employee experience that attracts and retains top talent. 
As the macro economic environment continually shifts from boom to bust, People Leaders must calibrate their strategy between hiring and retention – at the time of writing this paper, retention is top of mind for the majority of People Leaders. The research here is conclusive: the highest retention work environments have these three factors: Positive Sentiment, Engagement, Culture Alignment. 
There are a number of people analytics tools on the market to assist in measuring experience and sentiment, but once the data is collected where does it go? Is it easily correlated to the traditional favorite HR metrics such as time-to-fill for Talent Acquisition and tenure for HR? 
Let us begin by understanding the terms Sentiment, Engagement and Culture Alignment:
1. Positive Employee Sentiment
:
The top factor is sentiment. That's it. And here's what doesn't move the needle when it comes to sentiment scores:
Annual sentiment surveys

Starbucks gift cards

All hands meetings
Here's what really impacts employee sentiment, according to PwC's Global Workforce Survey 2022. These are also the biggest factors in determining whether your people are at risk of leaving:
Feel they can be their true self at work

Feel fairly rewarded financially

Feel that their team cares and their manager listens to them 
2. High Engagement Through Inclusion
:
Gallups's 2022 report found that employees who feel included are more engaged at work, as assessed by employees feeling like they had the following: respect, integrity, belonging, trust, and autonomy. 
3. Culture Alignment
:
The LinkedIn Global Talent Trends 2022 report found that culture was one of the top three factors driving people to seek a new job. Therefore, people-centered leaders should seek to understand if employee experience aligns with their intended company culture. This is especially important for employers who want to hire and retain younger workers– a two-year study from Deloitte found that more than 70 percent of Millennials expect their employers to focus on societal or mission-driven problems (including diversity, equity, and Inclusion). 
Retaining the diverse, top-performing staff that you worked so hard to recruit and keep throughout a tumultuous work-from-anywhere environment has never been more mission-critical to drive your company's competitive edge.
Your people analytics should be instant, easy and DEI enriched – in the case of sentiment measurement this means your automated easy to access people analytics software should unite seamlessly measurement tools, HCM systems, and always deliver the story line for BIPOC, Women, Veterans, Disabled, Non-Traditional educational backgrounds, Immigrants, First Gen, Internships and more. 
Without easy unification between your systems and a DEI-data story line at every employee touch point – hours and weeks are spent by professionals who must manually discover and knit these stories together. In the hours, weeks and months it can take to locate and deliver reporting – opportunities to hire and retain top performers are lost.
Instant Access To Data Enables a People-First Culture 
As a leader over HR, you can only substantially improve your employee retention strategy and care for employee sentiment if you see beyond a yearly or quarterly survey. Your department and people managers need real-time visibility into their people data, so that they can measure and understand what is going well/what needs improvement with their teams and use those insights to answer specific questions like, "How do I improve the journey of my employees? How can I inspire high-performers and build promotion pathways? How can I ensure that they stick around?" 
The most successful HR Leaders of the future will be agile, data-led, and prioritize positive experiences across the entire employee lifecycle. Still, not all Chief People Officers/CHROs have adopted technology to help get data and insights into the candidate and employee experience. In the modern era, you can only compete if your organization has instant visibility into the metrics of its workforce. With a people analytics tool that centralizes your data and offers executive dashboards, you'll be able to empower your team with HR metrics that matter, like compensation equity, promotion rates, attrition risk, and engagement data. 
With the rising emphasis on retention the number one question we field from Chief People Officers is: "How can we easily correlate sentiment factors to traditional HR metrics?"
With an automated people analytics platform you can identify trends and see how your organization responds as you evolve people strategy and programs. A diversity lens to these metrics should never be an afterthought but an integral part of every people strategy. For example, you should be able to easily see how employee engagement impacts attrition and retention across departments or if professional development programs effectively support advancing under-represented groups into senior leadership levels. 
Automation Makes it Easy: People Analytics Tools Can Help
Automating your HR analytics is an intelligent solution to improve DEI, maximize your current staff, and reduce time-consuming manual tasks in excel sheets or outdated BI tools. I built Included.ai for this very purpose. This people analytics platform solves this problem in two ways: by stitching together data scattered across the organization and then making it easy to share that data with the people who need to know.
Part 1: Centralize Your People Data
Most people data is sitting in multiple HR systems, and the first step is gluing all of those data sets together so that they can be sliced and diced in different ways. It's a complex task, but our software simplifies it so companies can leverage this critical data.
You will have access to data that answers questions such as:
Why is employee engagement declining?

What is the average engagement score?

What do attrition rates look like across various departments?

How many women do I have in leadership positions and multiple departments?

How are promotions affecting employee retention?
Part 2: Embed Diversity, Equity, and Inclusion at every touch point
People analytics (also known as HR analytics or workforce analytics) refers to collecting and analyzing HR data and measuring the journey and experiences of employees, candidates, and applicants within an organization. 
People data should be collected and analyzed for the five stages of the employee lifecycle: recruiting, onboarding, career growth, promotion, and attrition.
Access to this critical data can transform your organizational culture to be more equitable, inclusive and drive actions and insights that improve business processes and outcomes. In addition, automated, predictive data analysis delivered by your software helps the HR function forecast & create an agile strategy –like every other part of the business. 
Historically companies have kept demographic data separate or unanalyzed resulting in weak data sets and strategy choices….DEI (diversity, equity, and Inclusion) analytics makes a wholistic people strategy possible with insights into the demographic makeup of the organization and the experience of specific employee groups like BIPOC, Women, Non-binary, LGBTQ+, Veterans, and people with disabilities. Modern HR leaders embed DEI metrics into their people analytics at every step.
Part 3: Share the Data With Key Stakeholders in Real-time
All the data in the world is only good if the right people have access to it on demand – which is why Included.ai helps you share that information with key organizational stakeholders. In addition, the software drives awareness by enabling you to push insights to the people who need to know: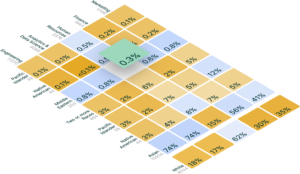 Scorecards: Real-time organizational health scorecard easy to share with stakeholders
Reports: Easy drag-and-drop report building complete with narrative insights for exec and board reporting
Dashboards: Customizable HR dashboards with DEI metrics embedded
Easy to Share: Collaborate and share all dashboards, reports, and scorecards across the organization
DEI Data Transparency Reduces Risk
Avoiding data collection and analysis poses an emerging risk– the regulatory landscape is evolving, and the SEC is considering requiring diversity disclosure from all publicly traded companies. It may not currently be a standard operating procedure to measure and publicly release diversity statistics, but the profound impact those numbers have on productivity, profits, and employer brand indicates that it's only a matter of time.
Proactive HR leaders will enable transparency by prioritizing easy access to data for reporting and compliance and using a data-led strategy to elevate the employee experience. 
Why Do Some Companies Not Use People Analytics Tools/DEI Metrics?
The uncomfortable truth is that some companies fear what they might find. However, the numbers don't lie– are you failing to source women in the recruiting stage? Are BIPOC candidates applying but not getting screened? Are pay and promotions equitable and help retain top performers? These are just a few data points that AI and talent analytics can illuminate. 
The Future State
Getting prepared for the future of work requires advanced capabilities for people leaders and Chief People Officers, and only a select few companies have yet to achieve the ideal state. AI powered people analytics takes automated, instant data sets and delivers real time value, and forecasting at your fingertips. AI is currently used to enrich data sets and accurately extrapolate rich insights from our data models. 
Because many companies cannot afford to staff up an entire team of data scientists and people analysts, AI powered insights and forecasting democratizes data insights for HR, DEI, TA & other business teams. With increased accuracy comes a more effective strategy and competitive advantage in attracting and retaining top talent. 
No matter your technical background, you can leverage AI to generate compelling workforce predictions and drive people-focused digital transformation with embedded DEI metrics. 
It's a virtuous cycle; better insights lead to better strategies and outcomes. And the best people leaders are never complacent. Instead, good results inspire continuous improvement and help leaders pose new questions about how to innovate further. 
Join us on the mission to get instant, easy, and DEI data-enriched people analytics. Want to learn more about instant, easy and DEI enriched people data? Our expert team will evaluate your organization's current situation and match you with the right tech so you'll take advantage of every opportunity to hire, retain, and grow a diverse, equitable, and inclusive workplace.