I'll get right to the point: legacy HR Tech cannot fulfill the demand for DEI data-based solutions. To solve the DEI tech gap, we at Included have raised $1.9M in pre-seed funding from FlyingFish, SignalFire, and Ascend. We're mission driven to deliver instant access to actionable data and insights on diversity. Our AI-powered platform unlocks data driven DEI strategy for the entire employee lifecycle so our customers can hire, retain and promote a diverse and competitive workforce.
After One Trust acquired my last company Integris, where I had been co-founder and CTO, I became curious about the rapid hiring of Chief Diversity Officers across industries. I had seen this same pattern play out in the privacy sector during my time at Integris –Chief Privacy Officers hired with no technology to enable them to meet their goals. As a CTO myself, I wondered — where was the data on diversity? Where was the ability to detect and resolve issues? I learned that companies just don't have the tools and data they need to build great, diversity-centric people strategies.
Now in a post-pandemic world, I am hearing CEOs, CHROs, TA leaders, and DEI leaders across the nation asking themselves this very same question: Where is the data on diversity? How do I reach my goals?
At Included we are mission driven to create better workplaces globally. We know that DEI isn't a tax, PR issue, or feel-good checkbox–but an opportunity to build better and more people-first businesses everywhere.
Our Chief Product Officer and one of my co-founders Chandan Golla likes to tell the story of how our first customers were amazed when we surfaced significant demographic trends in their people data that even their executives did not know about, because that's our priority –delivering actionable data on DEI for the entire employee life cycle.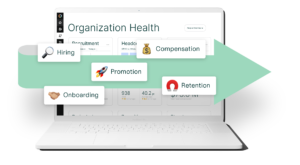 Attracting and retaining diverse talent, as well as minimizing attrition is made possible with complete data visibility. This means understanding the diversity story of your candidates and employees. With our actionable insights and DEI operations guidance customers easily create equitable and inclusive people and talent strategies for every stage of the employee life cycle… Here's a breakdown of our story and where we are headed.